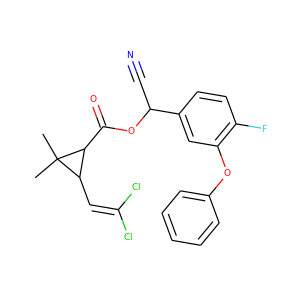 CYFLUTHRIN (68359-37-5)
cyano(4-fluoro-3-phenoxyphenyl)methyl 3-(2,2-dichloroethenyl)-2,2-dimethylcyclopropane carboxylate · OMS 2012 · beta-cyfluthrin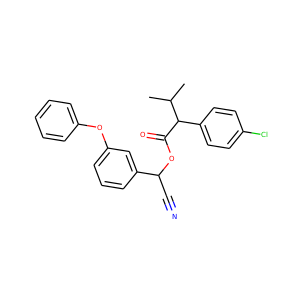 fenvalerate (51630-58-1, 66267-77-4, 67614-33-9, 67614-32-8)
esfenvalerate · Pydrin · pydrin, (R-(R*,R*))-isomer
Fenvalerate is an insecticide. It is a mixture of four optical isomers which have different insecticidal activities. The 2-S alpha (or SS) configuration, known as esfenvalerate, is the most insecticidally active isomer.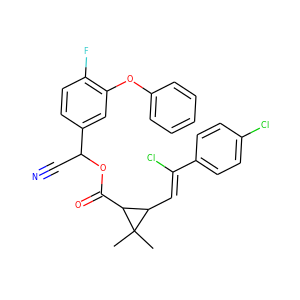 Flumethrin (69770-45-2)
alpha-cyano-(4-fluoro-3-phenoxy)benzyl-3-(2-chloro-2-(4-chlorophenyl)ethenyl)-2,2-dimethylcyclopropanecarboxylate
Flumethrin is a pyrethroid insecticide. It is used externally in veterinary medicine against parasitic insects and ticks on cattle, sheep, goats, horses, and dogs, and the treatment of parasitic mites in honeybee colonies.