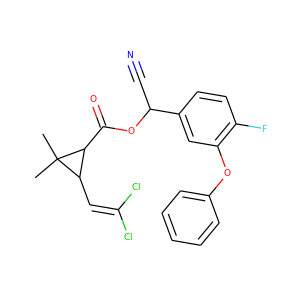 CYFLUTHRIN (68359-37-5)
cyano(4-fluoro-3-phenoxyphenyl)methyl 3-(2,2-dichloroethenyl)-2,2-dimethylcyclopropane carboxylate · OMS 2012 · beta-cyfluthrin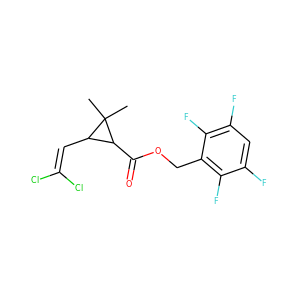 Transfluthrin (118712-89-3)
Transfluthrin is a fast-acting pyrethroid insecticide with low persistency. It has the molecular formula C15H12Cl2F4O2. Transfluthrin can be used in the indoor environment against flies, mosquitoes, mothes and cockroaches.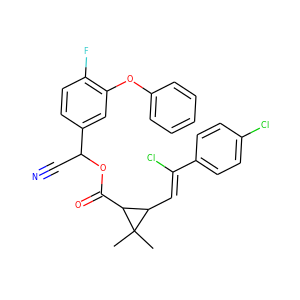 Flumethrin (69770-45-2)
alpha-cyano-(4-fluoro-3-phenoxy)benzyl-3-(2-chloro-2-(4-chlorophenyl)ethenyl)-2,2-dimethylcyclopropanecarboxylate
Flumethrin is a pyrethroid insecticide. It is used externally in veterinary medicine against parasitic insects and ticks on cattle, sheep, goats, horses, and dogs, and the treatment of parasitic mites in honeybee colonies.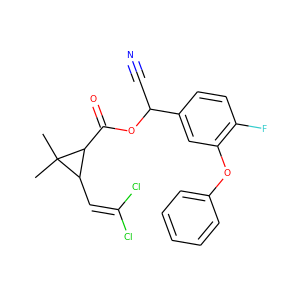 UNII-1N86KTR9CR (85649-12-3, 86560-92-1)
Cyfluthrin is a pyrethroid insecticide and common household pesticide. It is a complex organic compound and the commercial product is sold as a mixture of isomers. Like most pyrethroids, it is highly toxic to fish and invertebrates, but it is far less toxic to humans.