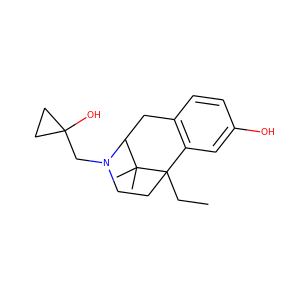 Bremazocine (83829-76-9, 75684-07-0, 79665-42-2)
bremazocine hydrochloride, (2R)-isomer · bremazocine hydrochloride, (+-)-isomer · 2-(1-hydroxy-cyclopropylmethyl)-5-ethyl-9,9-dimethyl-2'-hydroxy-6,7-benzomorphan
Bremazocine is a κ-opioid receptor agonist related to pentazocine. It has potent and long-lasting analgesic and diuretic effects. It has 200 times the activity of morphine, but appears to have no addictive properties and does not depress breathing.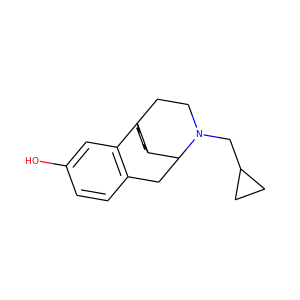 CYCLORPHAN (4163-15-9)
Cyclorphan is an opioid analgesic of the morphinan family that was never marketed. It acts as a μ-opioid receptor (MOR) weak partial agonist or antagonist, κ-opioid receptor (KOR) full agonist, and, to a much lesser extent, δ-opioid receptor (DOR) agonist (75-fold lower affinity relative to the KOR). The drug was first synthesized in 1964 by scientists at Research Corporation.