Categories
Suppliers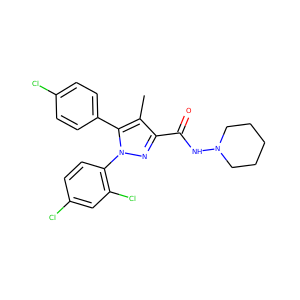 Rimonabant (168273-06-1, 158681-13-1)
Rimonabant (also known as SR141716; trade names Acomplia, Zimulti) was an anorectic antiobesity drug that was first approved in Europe in 2006 but was withdrawn worldwide in 2008 due to serious psychiatric side effects; it was never approved in the United States. Rimonabant is an inverse agonist for the cannabinoid receptor CB1 and was the first drug approved in that class.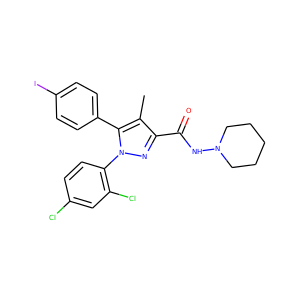 AM251 (183232-66-8)
AM 251 · N-(piperidin-1-yl)-1-(2,4-dichlorophenyl)-5-(4-iodophenyl)-4-methyl-1H-pyrazole-3-carboxamide · N-(piperidin-1-yl)-5-(4-iodophenyl)-1-(2,4-dichlorophenyl)-4-methyl-1H-pyrazole-3-carboxamide
AM-251 is an inverse agonist at the CB1 cannabinoid receptor. AM-251 is structurally very close to SR141716A (rimonabant); both are biarylpyrazole cannabinoid receptor antagonists. In AM-251 the p-chloro group attached to the phenyl substituent at C-5 of the pyrazole ring is replaced with a p-iodo group.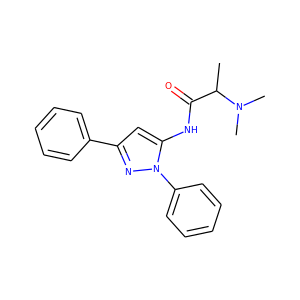 Difenamizole (20170-20-1, 20170-21-2)
Difenamizole (INN) (brand name Pasalin; former developmental code name AP-14) is a nonsteroidal anti-inflammatory drug (NSAID) and analgesic of the pyrazolone group related to metamizole. It has monoaminergic properties, including inhibition of monoamine oxidase, augmentation of pargyline-induced elevation of striatal dopamine levels, inhibition of K+-induced striatal dopamine release, and inhibition of the reuptake of dopamine.