Categories
Suppliers
trifluoperazine (117-89-5)
Stelazine · Trifluoperazine Hydrochloride · Trifluperazine
Trifluoperazine, sold under a number of brand names, is a typical antipsychotic primarily used to treat schizophrenia. It may also be used short term in those with generalized anxiety disorder but is less preferred to benzodiazepines. It is of the phenothiazine chemical class.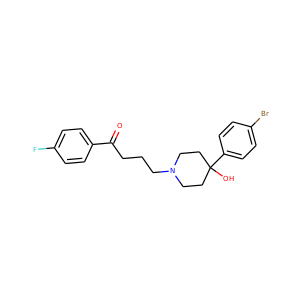 bromperidol (10457-90-6)
R 11,333 · bromperidol, 82Br-labeled · Tesoprel
Bromperidol (marketed as Bromidol, Bromodol) is a butyrophenone derivative. It is a potent and long-acting neuroleptic, used as an antipsychotic in the treatment of schizophrenia. It was discovered at Janssen Pharmaceutica in 1966.