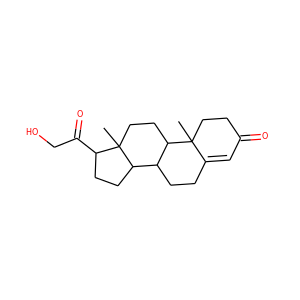 desoxycorticosterone (64-85-7)
Deoxycorticosterone · Cortexone · 11 Decorticosterone
11-Deoxycorticosterone (DOC), or simply deoxycorticosterone, also known as 21-hydroxyprogesterone, as well as desoxycortone (INN), deoxycortone, and cortexone, is a steroid hormone produced by the adrenal gland that possesses mineralocorticoid activity and acts as a precursor to aldosterone. It is an active (Na+-retaining) mineralocorticoid. As its names indicate, 11-deoxycorticosterone can be understood as the 21-hydroxy-variant of progesterone or as the 11-deoxy-variant of corticosterone.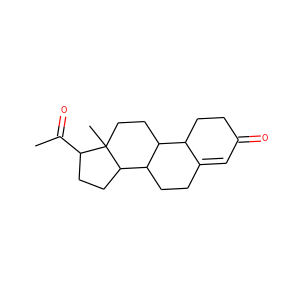 19-Norprogesterone (472-54-8)
19-Norprogesterone, also known as 19-norpregn-4-ene-3,20-dione, is a steroidal progestin and close analogue of the sex hormone progesterone, lacking only the C19 methyl group of that molecule. It was first synthesized in 1944 in the form of a mixture that also included unnatural stereoisomers (probably C14 (β) and C17 (α)) of progesterone, and this mixture was found to be at least equivalent to progesterone in terms of progestogenic activity. Subsequent investigations revealed that 17-isoprogesterone and 14-iso-17-isoprogesterone are devoid of progestogenic activity.