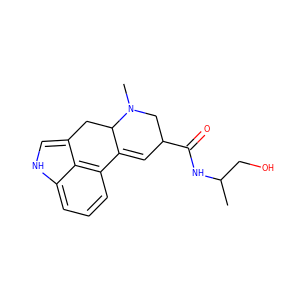 ERGONOVINE (60-79-7)
Ergometrine · Ergotrate · Ergonovine Maleate
Ergometrine also known as ergonovine, is a medication used to cause contractions of the uterus to treat heavy vaginal bleeding after childbirth. It can be used either by mouth, by injection into a muscle, or injection into a vein. It begins working within 15 min when taken by mouth and is faster in onset when used by injection.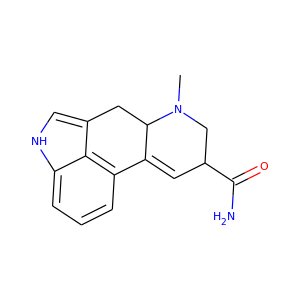 Ergine (478-94-4)
lysergic acid amide · lysergamide · 9,10-didehydro-6-methylergoline-8 beta-carboxamide
Ergine, also known as d-lysergic acid amide (LSA) and d-lysergamide, is an alkaloid of the ergoline family that occurs in various species of vines of the Convolvulaceae and some species of fungi. As the dominant alkaloid in the psychedelic seeds of Turbina corymbosa (ololiuhqui), Argyreia nervosa (Hawaiian baby woodrose) and Ipomoea tricolor (morning glories, tlitliltzin, Badoh negro), it is often stated that ergine and/or isoergine (its epimer) is responsible for the psychedelic activity. However, this theory is debatable, as anecdotal reports suggest that the effects of synthetic LSA and iso-LSA are only slightly psychedelic, see Mixing the Kykeon below for a summary of human trials, and Chapter 17 and entry #26 of TiHKAL for further discussion.