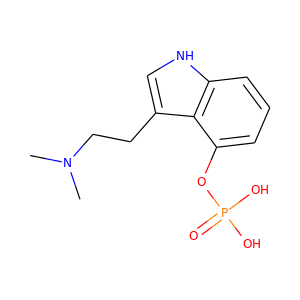 Psilocybine (520-52-5)
Psilocybin · Psilocibin
Psilocybin ( sy-lə-SY-bin) is a naturally occurring psychedelic prodrug compound produced by more than 200 species of mushrooms, collectively known as psilocybin mushrooms. Psilocybin evolved in mushrooms from its ancestor, muscarine, some 20 million years ago. The most potent are members of the genus Psilocybe, such as P. azurescens, P. semilanceata, and P. cyanescens, but psilocybin has also been isolated from about a dozen other genera.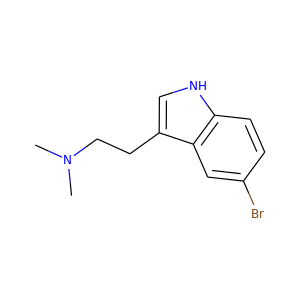 5-Bromo-N,N-dimethyltryptamine (17274-65-6)
5-Bromo-DMT (5-bromo-N,N-dimethyltryptamine) is a psychedelic drug of the tryptamine class and a brominated indole alkaloid that was found in the marine invertebrates Smenospongia aurea and Smenospongia echina, as well as in Verongula rigida (0.00142% dry weight) alongside 5,6-Dibromo-DMT (0.35% dry weight) and seven other alkaloids. It is the 5-bromo derivative of DMT, a psychedelic found in many plants and animals. 5-Bromo-DMT has a pEC50 value of 5.51 for the 5-HT2A receptor.