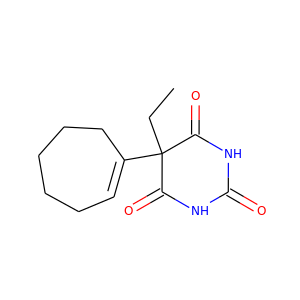 Heptabarbital (509-86-4)
Medomin · heptabarbitone · heptabarb
Heptabarb (INN; Eudan, Medapan, Medomin, Noctyn), also known as heptabarbitone (BAN) or heptabarbital, is a sedative and hypnotic drug of the barbiturate family. It was used in Europe for the treatment of insomnia from the 1950s onwards, but has since been discontinued.
Febarbamate (13246-02-1)
1-(3-butoxy-2-carbamoyloxypropyl)-5-ethyl-5-phenyl-(1H,3H,5H)-pyrimidine-2,4,6-trione · G-Tril · 5-ethyl-1-(3-butoxy-2-carbamoyloxypropyl)-5-barbituric acid
Febarbamate (INN; Solium, Tymium), also known as phenobamate, is an anxiolytic and tranquilizer of the barbiturate and carbamate families which is used in Europe by itself and as part of a combination drug formulation called tetrabamate.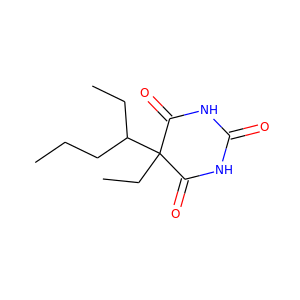 Tetrabarbital (76-23-3)
Tetrabarbital (INN; Butysal, Butysedal, Tetramal) is a barbiturate derivative used as a hypnotic.